Mini camper-van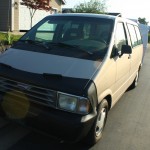 This mini-van was picked up in mid 2012 for $600. It is not pretty, but mechanically it was sound (enough) to justify a few hundred dollars.
Before venturing out on it's first trip, we decided to build up the mini-van interior with some living space. A simple bed/couch and some storage areas. It makes all the difference when trying to live in a vehicle for a week or two.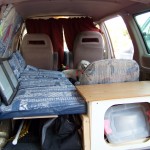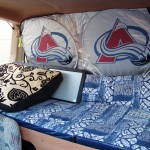 Now, a 2.5′ X 6′ bed takes up the entire length from the driver's seat to the rear door. Large enough to sleep on and allows for some storage underneath. The far rear passenger side has a small counter top for cooking (accessible from both inside and out) and a storage box under (accessible from both inside and out).
It cost less than $50 to build up some basic living space in this little guy and it is perfect for solo weekend outings or long road-trips as it does still get 25+ MPG on the highways. If I need to carry more gear, I can always tow a small trailer behind, but for a one-person trip, this can hold all you need and keep the total cost of the trip much lower than my larger van.