Inside the van known as Big Blue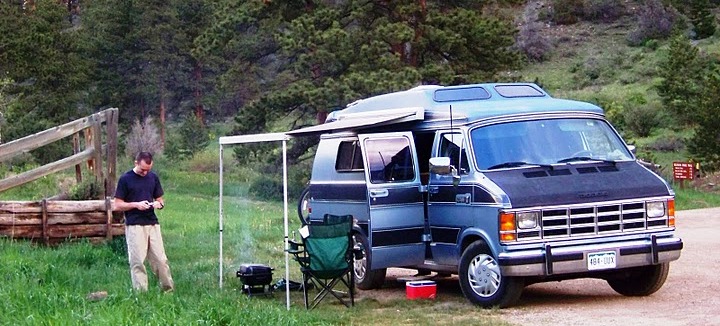 Though I have considered many a replacement, I simply can not find a more versatile road-trip vehicle. While the fuel mileage is poor compared to a passenger car, it is great compared to an RV or a Truck and trailer setup. It is large enough to pretend to be an RV and small enough to fit into a standard parking spot (only just) for which-ever suits me best that day.
Van comforts
92 sq foot of living space, plus unlimited square feet front yard everywhere we go
Two bedrooms (full bed in rear and captain chair folds down for another) to sleep up to 3 people
Two kitchens. External kitchen using a standard propane camp stove and an internal kitchen (powered by a Camp Chef propane Oven/Stove), 2.7 cubic foot 120v & 12v fridge, and a foot operated sink and faucet.
One and a half bath (outside solar shower and a tree to pee on just about anywhere, and a cassette toilet inside).
21 gallon fresh water storage for everyday needs.
Wired for 120v shore-power for those times we want to live like common folk.
Off grid rechargeable power including a 200 ah Lithium battery, 300 watts of solar panels, and a 600 watt pure-sine inverter powering dedicated outlets to charge and power all our devices.
12 foot retractable awning to double our livable floor space at any time.
Full LED interior and exterior lighting for a total of roughly 1500 lumens of interior lighting.
5000 lbs towing capacity, including 6-pin connector and trailer brake controller, to tow an in-law unit if we so please.
This slideshow requires JavaScript.
History
This all started after a trip to Yellowstone in my little sports car in 2009 where I camped for a few nights in a tent (and the rain). Afterwards, I was seeking a vehicle more suitable to the road-trips I wanted to take. It wasn't easy camping out of a two-seater car, even by myself, and I wanted to bring my son on some of my trips. I waffled back and forth between a mini-van that I would customize myself or a large V8 van conversion, or possibly even a Class-C RV.
After careful consideration I realized that a mini-van would not be able to tow (an important option for me), and a full-fledged RV was not practical for a 1-person trip, so the middle ground van-conversion was settled on. I had one in the past and loved the freedom it gave me, so I searched for one similar to it and stumbled across the exact van I wanted only 15 miles away. I purchased what is now my van, Jonas – aka "Big Blue" – 2872 days ago, on the spot and started my van-life travels.
I did do a bit of customizing to the layout during those first years, but nothing significant. After a few years of getting to know what I needed from my van,  the interior was rebuilt to a fresh layout which gave me some dedicated desk space, a closet, and a much needed longer bed to sleep on. In early 2016 the interior went through a minor renovation to make it girl-approved for Kerri and my first trip into Baja. After that 3-month trip we decided that Big Blue needed a repaint so we could spend more time in it in the states. So we repainted at the end of 2016.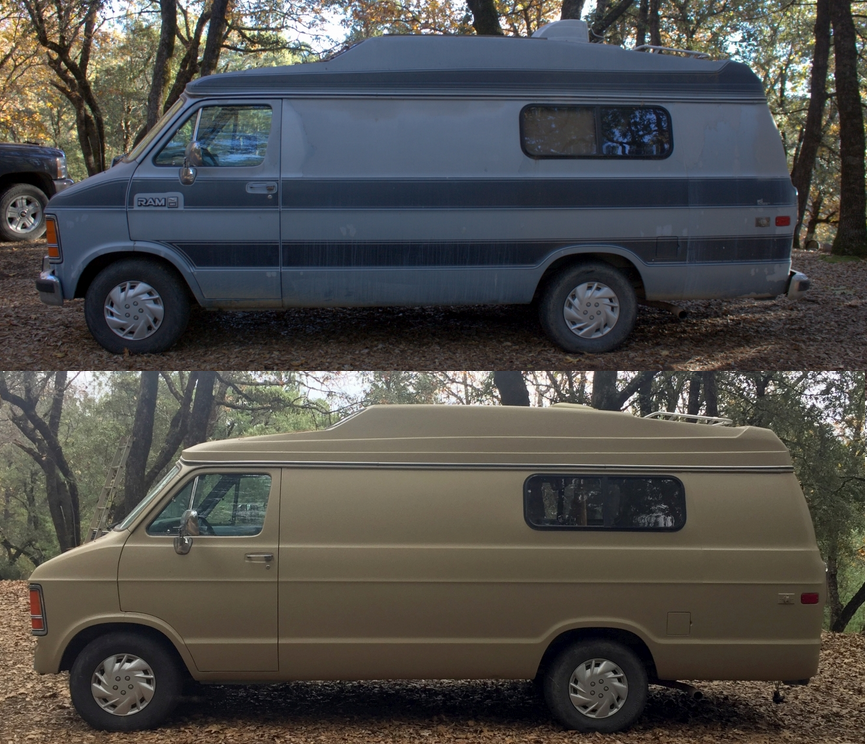 At the end of 2017, in preparation for the entire 2018 year living in the van, we did a complete rebuild of the interior and more. The results of the 5 week rebuild were both dramatic with the cedar plank walls and functional with the addition of;  A new 21 gallon fresh water tank, a larger 2.7 cubic foot fridge, bigger memory foam mattress, sink, foot pump, and plumbing, a shiny new 200 ah Lithium battery, an additional 100 watts of solar for a total of 300 watts, MaxxAir fan, rear airbag suspension lift, and larger all terrain tires.