Favorite camping spots of Baja
Part two of my favorite camping spots of 2016 continues with our stay in Baja, Mexico. I wasn't sure what to expect of Mexico (safety and all) but my expectations of Baja camping was clear; sandy beaches and maybe even learning how to surf while eating a lot of tacos was the image in my head. Baja gave me that and more. It wasn't easy to narrow the field down to just a few spots, but here goes…
There is some boondocking in Baja, but not as much as the South West of the states. However, the cost of a space at a campground or RV Park in Baja is much… um… "mucho" lower than north of the border. 100 pesos, at the time, equated to just over five US dollars, and 100-200 pesos was the normal nightly cost in a pay-for campground. We were not afraid to pay to camp in Baja for that very reason. Enjoy!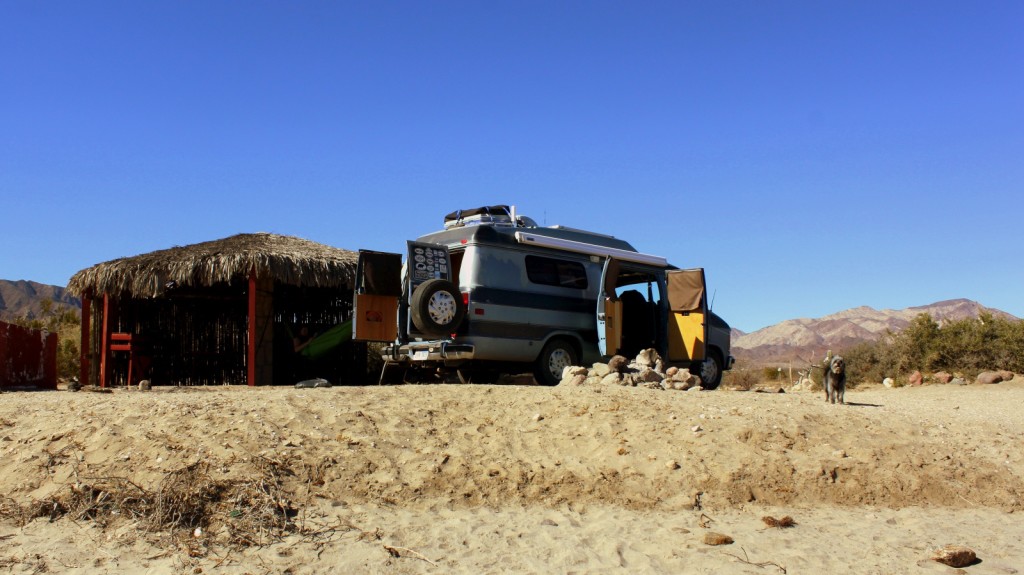 Campo Archelon in Bahia de Los Angeles (paid) – Not far out of the small fishing village of Bahia de Los Angeles. We had stayed only a single night at Campo Archelon, but if conditions were better (I required Internet 7 days a week for work at the time) then we definitely would have stayed longer. Campo Archelon was a well organized and laid out campground for small rigs only. Only about a dozen spots but great for van, truck, or tent campers. All were only a few steps away from the beach on which we hiked out to the lighthouse a mile or so away. It was our first peak into beach camping in Baja, and the feel of the place was just perfect. The little village of Bahia de Los Angeles to the south is worth a day-trip as well.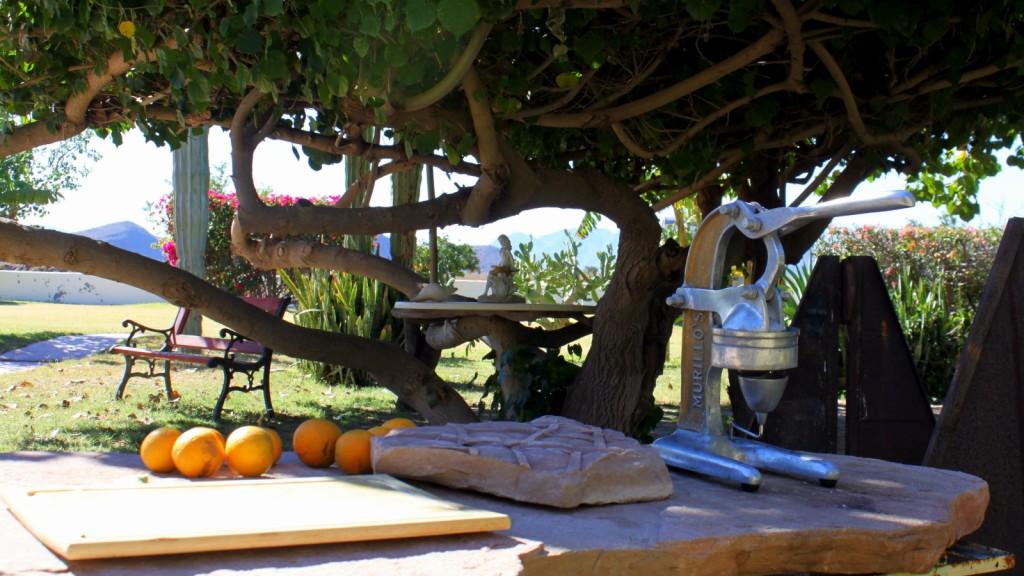 Ray's RV Resort in Mulege (paid) – Although Ray himself passed away a few years back, the RV park on his estate is still operational. Basically a large grassy area, with 120v outlets sprinkled about, surrounded by an orange-tree grove. For much of the time we were here alone, and the owner gave us as many oranges as we wanted. An industrial sized orange press worked constantly to feed our orange-juice needs. From here we started to get to know, and started falling in love with, the town of Mulege which became our favorite town in Baja by far. The only downside is that Ray's is 2 miles outside of town, down a pretty rough gravel road. Not very conducive to sight seeing.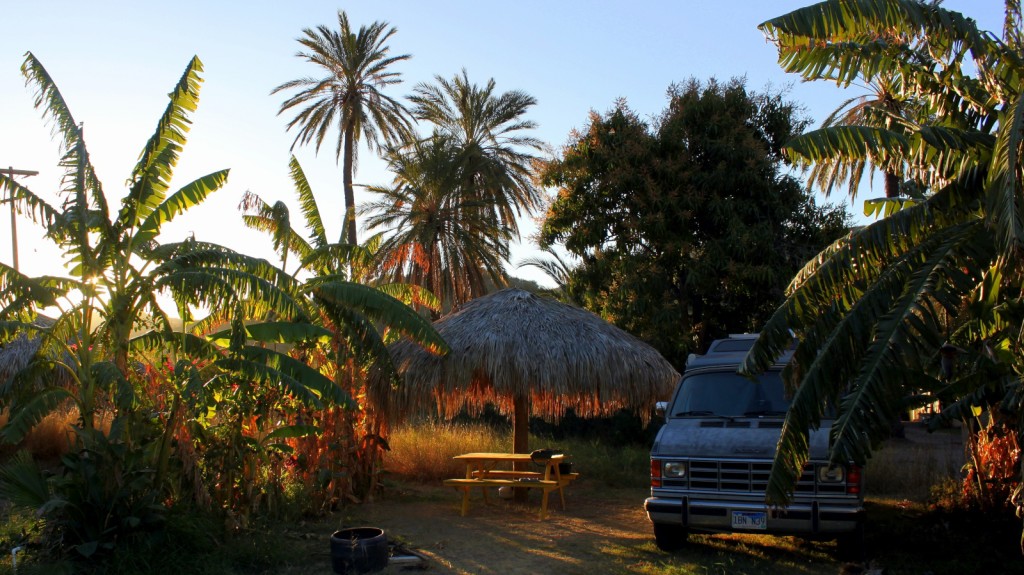 Huerta Don Chano Campground (paid) – When we wanted more of Mulege, and we did, we moved into town. Huerta Don Chano Campground is right on the outskirts of the city proper – about a 3/4 mile walk on paved (but unlit… scary at night) roads. Each little site within the campground came as a picturesque window into a far away tropical land, complete with 120v and water (for the dishes and dogs only). From here we spent a day walking around the town of – and properly falling in love with – the town of Mulege. We stayed here again on our way back up Baja, again having a great time at the local hangout slash sports bar just a short walk away.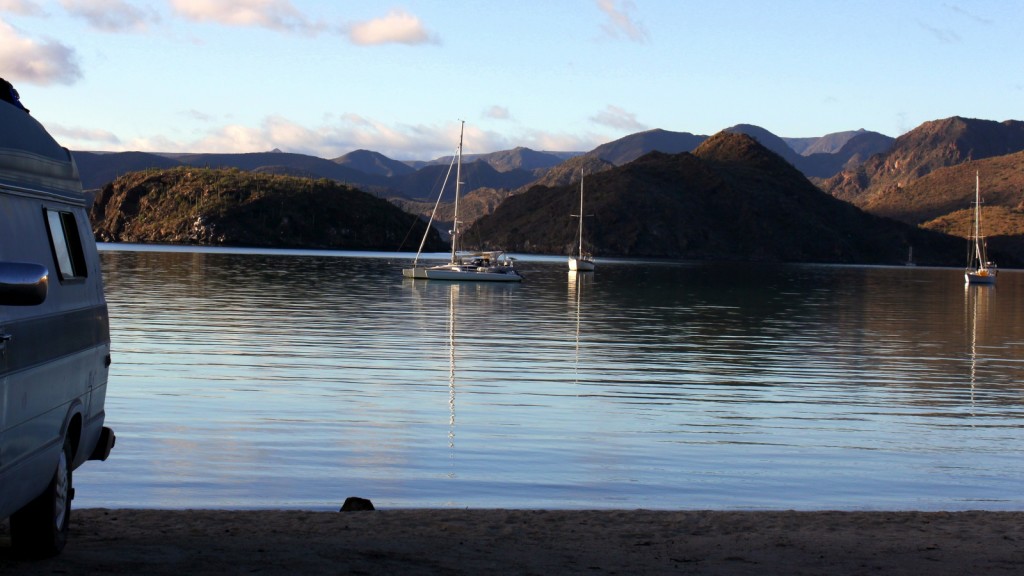 Playa Santispac in Bahía Concepción (paid) – If you want to make all your friends and family jealous of where you camped in Baja via photographs, this is the place to do it. Camping directly at the waters edge on a white-sandy beach with an amazing views out into the bay. Locals vendors come by to sell their wares too… hopefully tamales, as they are the best! Don't forget to visit the bar on the beach for the meanest margarita in Mexico. We barely made the walk back to the van after having just one each.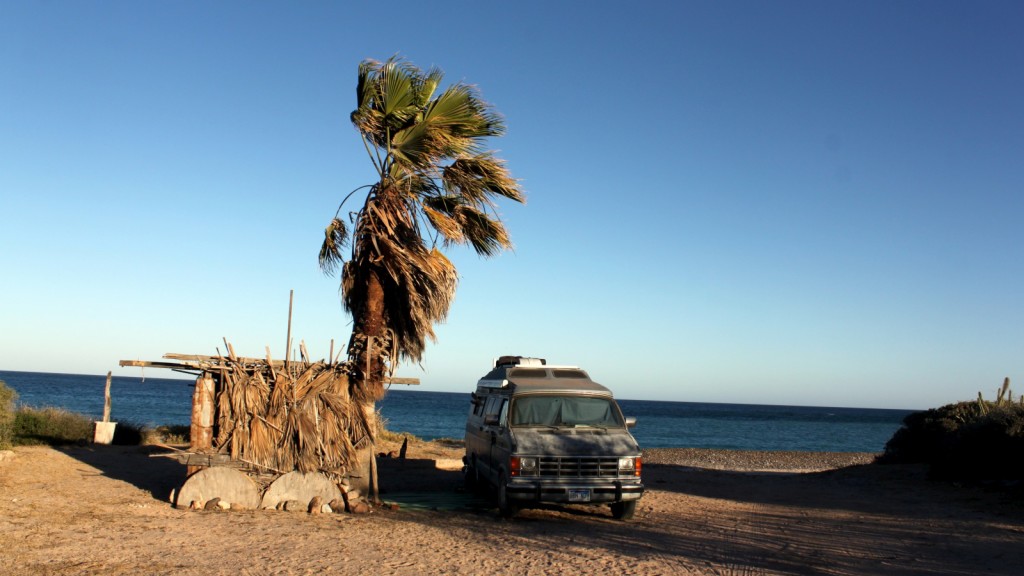 Cabo Pulmo (free) – Cabo Pulmo is a National Park and protects one of the world's largest reefs. If you are lucky enough to make it down the miles of washboard road, the payoff is this an amazing beach-front camping only 1/2 mile outside of the tiny town of Cabo Pulmo where there are multiple vendors to take visitors out on snorkeling or scuba adventures. Our week's stay involved a lot of beach-play, and walking into town to sample each of the three local restaurants… and our first and only case of food-sickness (that's why I dont eat shrimp!).
As I was writing this blog post, I kept thinking of another place, then another, and another. All were great places to stay in Baja for one reason or another. The camped RV park in Loreto was great because we were really able to sample the historic parts of the town there. The murky hotel parking lot in Guerrero Negro was great because of all the local taco trucks just down the block. And even the dirty surfer beach south of Todos Santos was great thanks to the amazing waves (I played in, but did not try to surf) and the camaraderie of the guys camped there all winter. I'm not trying to sell the place, but Baja really was such a great adventure.