Boondocking in Teton National Forest
Just across the road from the Teton National Park, up an unmarked gravel road leading into the forest, is one of the best boondocking locations I have ever been too. I've camped here before, back in June of 2011, and enjoyed it so much I was happy to repeat the adventure. This was a planned stop where I stayed for 6 days before moving on through Yellowstone and towards Glacier National Park.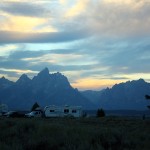 This time we would not be alone. Other RV'ers were already occupying the site that has the premium view, but since we had camped there in the past it was our turn to camp one site over. We still had a view, just that they were part of it.
Conor and I have a few things scheduled over the week, but for the most part we just sat around enjoying the views. Conor ended up leaving early (on Thursday morning) which left me a few days to myself. I worked on the van, visited the National Park for a swim, made a new insect friend, and went for a grand bike ride over the 6 days I was here.
This afternoon I roll into the Grand Teton National Park to shower and do some laundry. I may stay a single evening in the main campgrounds but otherwise I will be continuing North through Yellowstone (no sight seeing planned), into Idaho and finally Glacier National Park by next weekend.