Big Blue version 4.0 – Ending with a bang
We spent two days packing up the van (I say we, but actually Kerri did all the packing as I blew out my back something fierce on the final day of construction [that is twice in five weeks] and was barely able to stand, let alone move things into the van) and were all excited to drive off from Grass Valley on Christmas Eve. Things were all going according to plan – not my plan, but close enough – and by Sunday afternoon we jumped into the two captain's chairs and waved our goodbye's to the Mom and Dad and started our hop over the Sierra Mountains. We found that our new drawers and cabinets were opening and closing while driving, but were still happy to be moving nonetheless. There were other concerns that popped up (as expected) but we were able to move past them quickly. We were on the road, heading South to meetup with friends for the new year.
Only 30 minutes later, and less than 20 miles from our starting point, as we were climbing up a grade on Interstate 80, the engine shut off and smoke billowed behind Big Blue. We coasted to a stop on the side of the Interstate, jumped out of Big Blue, popped the hood and found that Big Blue was on fire!!! We had just finished a huge (and costly) rebuild, and had all our gear packed tightly into the van… and it was on fire!!! Luckily, Kerri and I had just finished a conversation on where I packed out extinguishers, two of which we were sitting directly on. When we jumped out of the van, I asked her to grab the extinguisher under her seat. While I opened the hood, she pulled the pin and handed me the life (and van) saving device. A quick burst from the extinguisher – while Kerri pulled the dogs out of the van – and the real problems were resolved. But we were still stuck on the side of the Interstate, with oil pouring from the engine.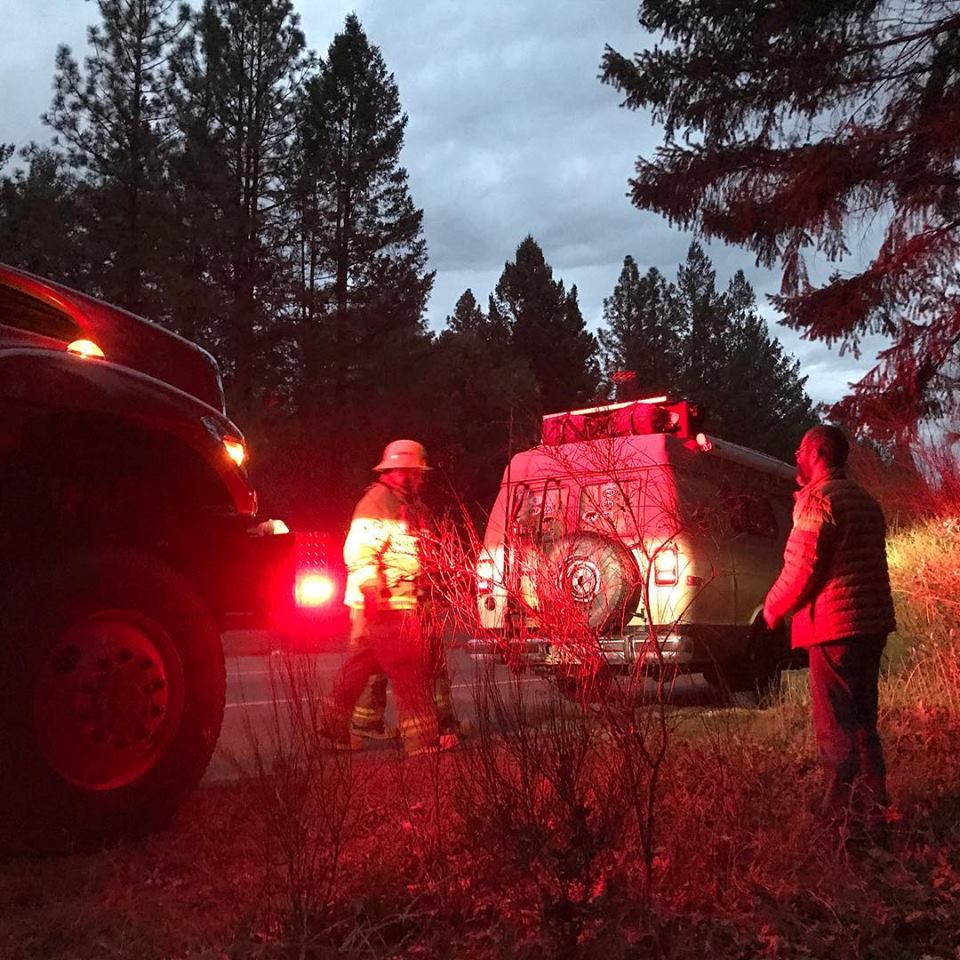 As you can see, a passerby called in the cavalry; the local fire department were on scene within 3 minutes, and not another minute later a CHP officer dropped in to make sure all was OK as well. He left us with a few long lasting flares to set out while we waited for our tow truck (which he called in so they would prioritize us). The flatbed showed up quickly, and pulled the 8000+ pound van onto it in record time. We asked to be towed back to Grass Valley where the parents were awaiting, again.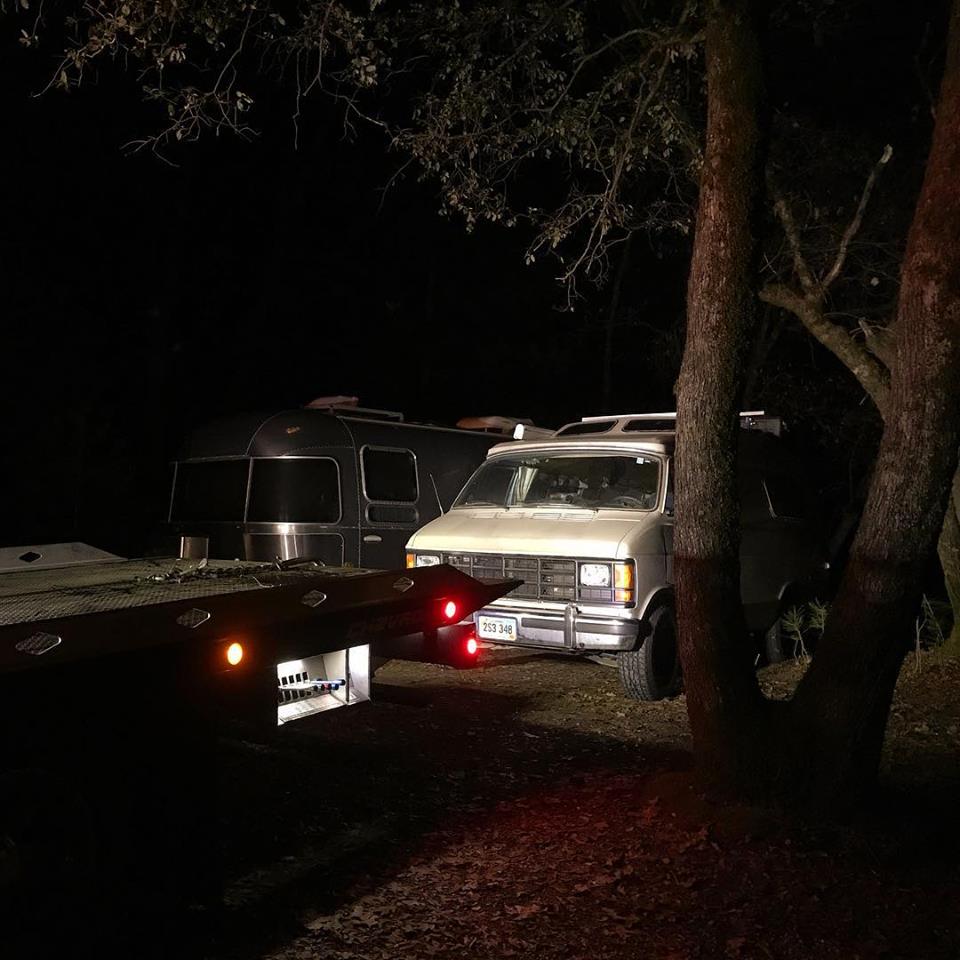 Big Blue was parked right beside the Airstream (again, again), but it stunk of burnt-van inside. We couldn't sleep in the trailer either as it had nothing in it, like bedding, clothes, water, etc. We opted to sleep inside, in the guest bedroom and leave Big Blue to air out for the night. I fully expected it to be a blown engine and some tough decisions were going to need to me made. Hopes were not high, but we both understood it was not a life-ending situation.
Once I pulled the doghouse out and got a first peak at the engine it became obvious that it was not a blown engine. Instead, it was my stupidity (not properly cleaning up a rats nest that I removed weeks back) that caused the fire, which did a number on the wiring (hence the engine shutting down), vacuum lines, and oil pressure gauge tubing (hence the oil leak). As awful as it all looks, it was an easier and less expensive hole to dig out of. Three days later, as I am writing this, and the van has still not restarted. We will be at least a week (hopefully not two weeks) behind due to this easy-to-avoid-mistake.
The lessons I would like to pass on to others are:
Look for, and properly clean up rats nets after a vehicle has been sitting for a long period.
Always carry at least one fire extinguisher, in a place easy to access, at all times. We had 3 with us that day.
Listen to the women! Sometime their "nagging" could save your life/van/butt. I wish I had.
Dive safely now… and always an extinguisher.