Kayaking Bayou La Rose, Barbara tries to kill again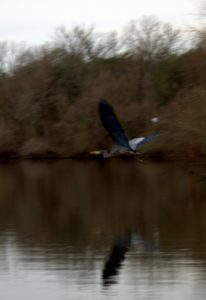 We pulled in too, and camped at, Bayou La Rose for our first full work-week in Louisiana. Kerri found this small campground and decided to stay out here, as opposed to closer to Lafayette-proper, so we can more easily kayak on any day we want. The campground (Uncle Dick Davis Campground) is positioned right along the water of the bayou, so launching our 'yaks was as easy as stepping out the front door.
So, after a few days of morning rains and cold temperatures, we finally got out in the early morning to kayak up the bayou to scout out the pontoon bridge a few miles up-river.A nice peaceful paddle along a well populated shoreline didn't make for the best trip we have taken, but it was nice to get the kayaks in the water nonetheless.
By the way; that pontoon bridge had a 9.5 foot clearance and a 5 ton weight limit, both of which we would not have met with the Airstream in tow and wouldn't you know it, our GPS "Barbara" tried to route us over that very bridge the day we arrived. That is the fourth time on a year Barbara has attempted to kill us!