Bahia de Los Angeles
We barely made it before the sun began to set, taking about 9 hours to make the drive from Ensenada to Bahia de Los Angeles. We were actually up and rolling before the sunrise, knowing we had a lond day of driving ahead. It didn't help as much of the main highway was covered in massive pot holes, slowing us to a snail's pace for hours at a time. Kerri did have a planned pit stop along the route, at a local restaurant that is known for their lobster burritos (crazy, right?). Even though she was still feeling no-so-great it didn't stop her from gobbling down that burrito. She offered me some, and I gladly declined. I did finish off her beans and rice though, so yum.
Making the long haul in a single day allowed us to spend two nights at one of most memorable campsites in our previous time down here – Campo Archelon.  Last time around we pulled into a nearly vacant campground, with only two others, tent or car-camped nearby. This time the place was full with vans, cars, tents, and small trailers occupying nearly every spot possible. Great business for the owners, but we were hoping to score a nice quiet palapa along the beach and relax for two days. Instead we had to settle for just beach-front (no palapa) for the first night… oh the horror. The second day we were able to move to a palapa where we had a tick more privacy and could shelter from the wind a bit.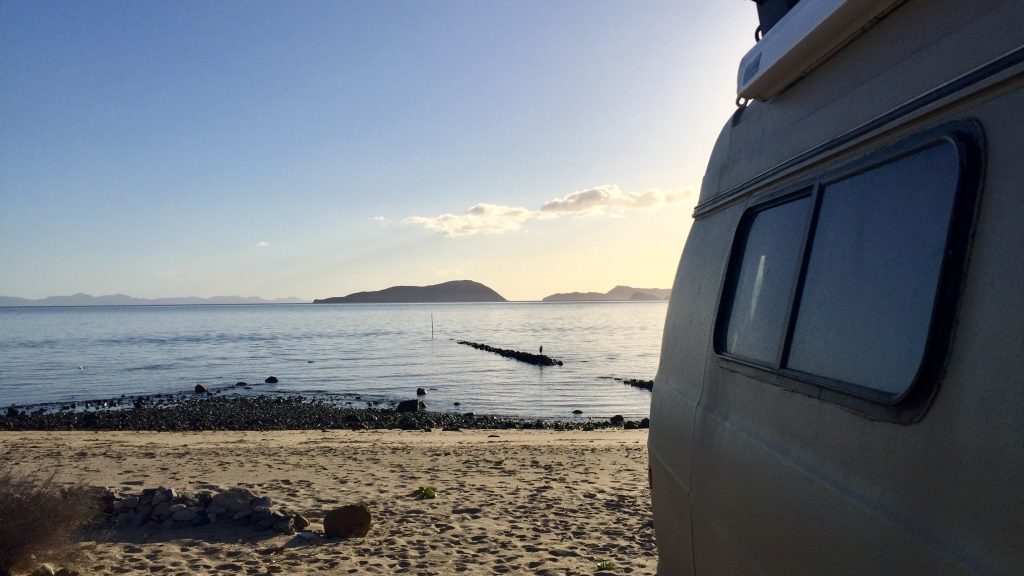 While we had waterfront property we took the time to air up the new Advanced Elements tandem kayak and take it our for a maiden voyage. We didn't get far, thanks to the wind, but we were happy with the way it moved along the water and most importantly, that we seem to be able to handle a tandem without it turning into a fight. I've heard so many stories of tandem kayaks ending in divorce for many couples… so far all it well for us, after only 20 minutes at sea. Anyway, I am really looking forward to getting this guy out on the water in a place we can do some snorkeling. It will be a blast to kayak out from shore, jump overboard with our snorkeling gear, and explore away with the kayak floating above us with a picnic (and beers) onboard when we want take a break. That's the dream anyway, hopefully we get to do it.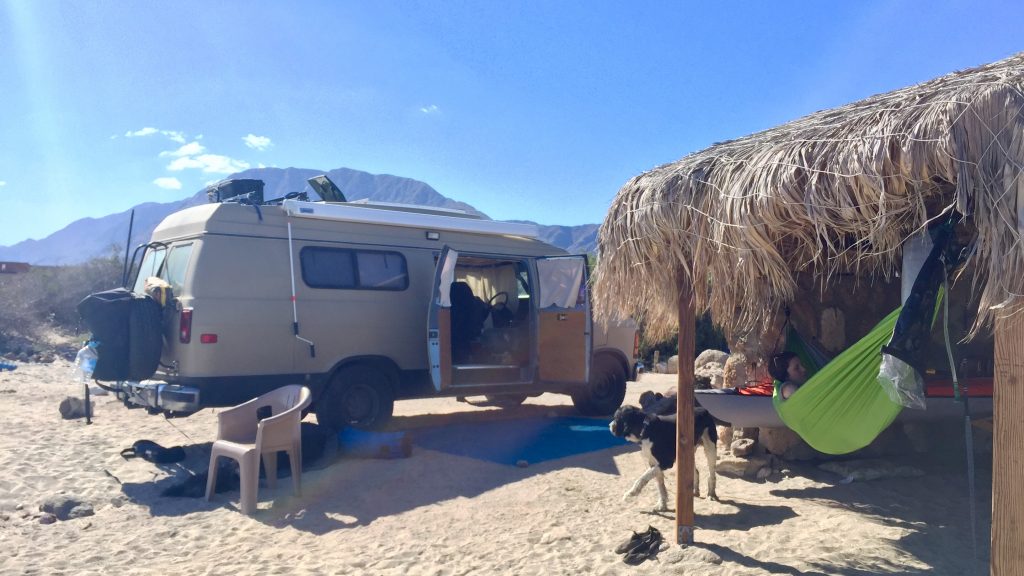 The two days passed pretty quickly, with a lot of lounging around, reading, and trying to keep the dogs entertained enough to stop barking and whining every moment they were awake. Byron is having a rough time adjusting to having to be outside all day. Just not enough room in the van for him to get his 20+ hours of beauty sleep a day inside, so instead he sits outside making pigeon and dinosaur sounds trying to convince us he is so near death that we MUST let him inside. ALL-FRICKEN-DAY. Moose on the other hand, just wants to be free of his leash to join to roving gangs of Mexican dogs that get to wander the streets the entire day. He did meet a female dog that wanted to play badly enough that she tolerated his attempts at humping her to no end. She really messed the poor guy up; somehow getting him to go into the ocean (he hates water) and got him so hot and bothered he could not sit or lay down for a half hour after their meetup.
Unfortunately, we are back to the big city as of Monday afternoon, having left Bahia de Los Angeles in the late morning on Monday to make the final 3 hours of driving to Guerro Negro where we settle in for the work week, then off to see some whales next weekend – something we were unable to do last time here.