The work has continued to finish the rebuild of the Compact Jr before I leave Crescent City in early December. Just last week we thought we were nearing the end, but 7 days later we were still spending most of each day tinkering away… and the finishing touches have made a big difference.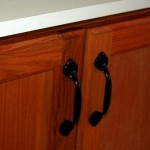 Adding the the decorative support posts, staining the cupboards, and adding the hardware to open and close the cupboard doors, we were finally able to call it quits in that area of the trailer (as if there are multiple areas). Along with a 12v light above the doorway, the changes finished off the kitchen/pantry areas.
Prior owners glued on a cheap panel board to the inside of top and the entire fiberglass top was sagging about 3 inches thanks to thin fiberglass and the added weight of the panel board. Mom spent hours chipping away at the glue and board and I added ribs to the top-outside of the top to lift the fiberglass back into shape. These ribs will double as a place to store a kayak or canoe during the fun travels we see in our future. We also took the time to replace all the aged nuts and bolts associated with mounting the top to the trailer itself. Together with a few drops of lithium grease, it is much easier (and safer) to erect or drop the lid.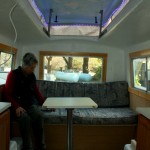 We had talked about painting the inside of the top a sky-blue so she could rest in bed and see the sky even with the top down. A quick sponging of white to the hardened glue areas give the impression of clouds in the sky (or islands in a sea depending on your view). A blue tinted rope light  was brought in to add to the ambiance.
Finally, to replace the old and mildewed canvas, long since thrown in the dumper, we picked up some canvas of our own and began the two-day job of hemming and then installing the canvas on the pop-top. Instead of small portal windows, we set it up so four feet of the sides can be rolled up to allow massive light and air into the trailer at will.