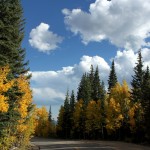 Friday, midnight, Moose and I are packed into the van and driving West, up the Rocky Mountains. Our destination was only to get to Ward, Colorado were we parked the van and called it a night. At 6:30 in the morning coffee was brewing and we were only a short drive away from our destination; Brainard Lake Recreation Area.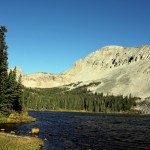 Any long time reader may recognize the name as I visited the park in July of 2013. Then I hiked out to Lake Isabelle. This trip it was decided to take the other trail up to and past tree-line. Mitchel Trail leads into the Indian Peaks Wilderness on the north side of Pawnee Peak past Mitchel Lake and to Blue Lake, 3 miles out and just above tree-line.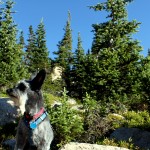 I was not sure Moose could handle the 6 miles round trip, but he seemed more than happy to give it a try and I must admit that he seemed to handle the mileage better than me. The trail climbs gently up too and beyond the 11,000 foot tree-line surrounded by monstrous peaks on three sides, and thankfully not the fourth. Pawnee Peak, Mt Toll, Paiute Peak, and Mt Audubon all extend above 12,000 feet and watch over the valley in which Moose and I were hiking.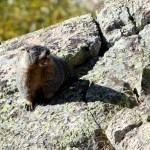 With Moose checking under about every rock on our side of the shoreline, I settled down to snap off a few photos before turning back down the trail. We finished by noon, just as the crowds were taking over the park. A quick van-prepared lunch and nap cemented it as a great day away from civilization. The new camera got a workout as well. Those 3 extra megapixels sure make a difference.