I've been boondocking at the Government Wash area of Lake Mead. It is free to camp here for up to 14 days. Truth be told, you do have to buy a weekly pass for $10 to make it official, but considering what you get for that $10 it is money well worth spending.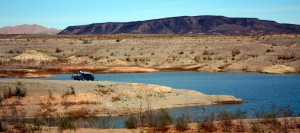 It is clear that this place is no secret. Dozens of RVs sprinkle the hillsides in this area. My goal was to camp near the Aluminarium duo without crowding them. As luck would have it I think I got the best place of them all, with easy access to the water and a view of nothing but the lake. Only small rigs can make it out to where I am, surrounded on 3 sides by water with only a thin gravel road giving access and no area to turn around anything larger then my van. I feel secluded in a crowded place although I do run the risk of fisherman coming around, but that is no issue to me.
There are a lot of things worth photographing out here, from the sunsets, to the birds, or just the odd Moose lounging around.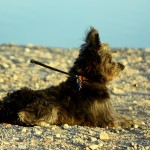 Speaking of Moose, since this is our first opportunity to go swimming I have been slowly working with him to get into the water. He was afraid at first, but his urge to chase-that-stick got him into water, but only to where he could still stand. Swimming will be another time I guess.
These were the final days of a month long caravan with Leigh and Brian, ("Who is that weird guy in a van following us?"). Leigh fed me another fine meal, we shared a few more beers, and we went to their favorite pizza place which hit all the right spots! Ironically, this happens to be the *only* time I have ever entered the Greater-Vegas area other than traveling through.
One casualty of staying here was my portable BBQ; On day-2, I decided to turn the van 90 degrees to give Moose a bit more shade in the afternoons. I figured I would just pile everything that was already outside the van in a single stack and I would drive around it. Um, yea… you get the idea. A flattened BBQ and a shit-ton more shade did result.