Weekend tent-camping in Minnesota
Over the weekend the four of us took off in the truck for two nights away from the Airstream, which was left at a Moose Lodge in the small town of Two Harbors, MN. Kerri and I wanted to explore the boundary waters area that makes up the Canada / Minnesota border. It is "way up there" on a map, and an hour from any of the smallest of Minnesota towns. Just my kind of place!
The weather report was clear that we would have a chance of rain over the weekend. We chose to embrace the non-ideal weather and just go for it, and deal with whatever rain came when it did. No big deal, we are experienced at camping, right?
It was a 2 hour drive to get the national forest forest road we planned to scout for some dispersed camping. But the Minnesota forests are not like Colorado's, or Wyoming's. The trees are too thick to even step into, let alone go find a bare patch in the woods to pitch a tent. The small areas that did not have hundreds of trees growing, were swampland and had no less than a million mosquitoes per square inch. After checking a few possible places, we decided to just accept the campground that Kerri had chosen as a backup; Flour Lake Campground. Site #19 was our perfect site with lake-front camping and complete privacy. Although we had to haul all our gear down a 100 foot path from the truck it provided a better feel of camping in my opinion.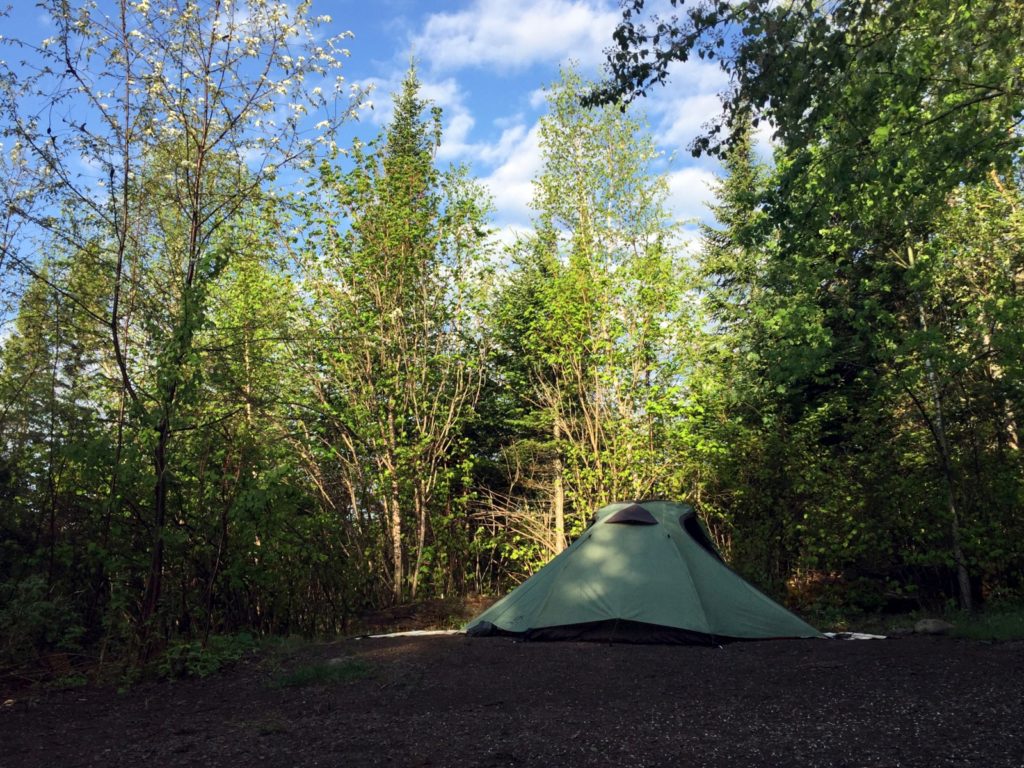 The dogs loved the space and lake, big time. Byron was in the lake for two full days, never once getting completely dry all weekend long. Moose was allowed off-leash to run off some of the energy that he always has. He never came anywhere near low on energy, still running around hours later.
At dinner time on day-1 we started BBQing a few burger patties over a fire. Kerri was working on some potatoes. It was then that the rain decided to appear. Mild at first, just enough to allow us to think that it may blow over quickly. We continued to BBQ. Then the rain came down in sheets, completely drenching both of us, both dogs, and all our food. We huddled under in mosquito room (not really meant as a rain canopy) as best we could… grumpy and hungry.
It rained hard for an hour, and then the skies cleared. We came out the other side wet, but alive. Our spirits were slowly lifting when Kerri walked over to the tent to get some dry clothing when she exclaims, "the rain fly is open!" Yes, everything in the tent was soaked. Grumpiness returned.
We made it through the first night, thanks to having two sets of sleeping bags and some sunlight still left in the evening to help dry out other things. The following morning was ideal, with a campfire, some coffee, and a few hours of relaxation before setting out for a day of exploring the area in the truck and foot. By evening we had returned to camp and were just starting to prepare dinner again when the rain returned. We were prepared, jumped straight into the tent, with the dogs, and closed the rain-fly this time. It rained harder then the previous day, so much so that our tent began to leak along the zipper seams of the rain-fly, dripping straight onto the dogs and our sleeping bags. There was no way to stop the leakage, and the grumpiness returned.
We considered packing everything up and returning to town for a motel room, but that was quickly pushed aside. We can do this… camping in the rain. After 2 hours of heavy rain the blue skies returned. With what looked to be no more risk of rain, our moods quickly reverted to a happy state and we enjoyed our final evening at camp together, before calling it a night as the darkness arrived, well after 10pm this far North.
The next morning was, once again, a perfect morning. We slept in, enjoyed coffee around our campfire, the dogs playing in the lake while we began the slow process of setting everything in the sun to dry so we could fold and pack it all back away in the truck.
In the end, the whole process – including the small portions of grumpiness – was just what we both needed. We were both happy to get out into the wild for a few days, and we both learned a lot about what we need to do when weather comes in while tent camping. We were happy to learn these lessons while relatively safe in a campground as opposed to 10 miles out some trail without the extra gear that we had with us thanks to the truck being our mule. The dogs wiped themselves out for days, only gaining enough energy back to play fetch days after our return. And I am very happy to report that my tent educed insomnia seems to have been resolved. Thanks to a little Scotch and sleeping pills each evening, I slept well!