Van essential – TP-Link high gain wifi adapter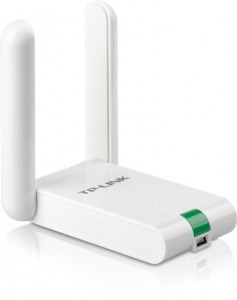 I have decided to write up a few tidbits about things I consider "essential" for my van dwelling lifestyle. These are things that I may have lived without in the past, but now that I have given them a try, I do not think I could live without them again… or at least I do not want to live without them. So here goes…
The TP-Link N300 high gain Wifi adapter was recommended to me by a fellow full-timer in Montana. My problem was that, even though I was parked only a few dozen feet from the Wifi access point, I could not get a strong enough signal to it to make a solid connection. He told me about his solution; the TP-Link N300.
It is only the size of a deck of cards, but with it's 3dBi omnidirectional antennae it reaches out and picks up WiFi signals at a much greater distance than my internal adapter allowing me to easily connect to that McDonald's or Home Depot Wifi even when I am parked hundreds of feet away from the building. This is ideal for those nights spent in a Walmart parking lot as there is quite often a hotel or fast-food chain with an open Wifi connection within distance of this little guy. It does what it says it will do and considering it's $20 price, it will pay for itself over a few months of not having overage charges on my Verizon account.
It really is not meant for mobility by any means. It is connected by a USB cable which would be cumbersome if you were moving that laptop every day. I have the adapter mounted high in my van near my workspace so I can easily plug it in when I need it, otherwise it just stays out of the way until needed.