Time to burn, so rodeo
The gathering broke up soon after the Solar Eclipse. Each day another two or three rigs pulled out, and by Thursday all but one (us) were heading somewhere else. It was strange to be there all by ourselves. Three weeks this was our home, and for all of those days we had many neighbors. The silence of the place was so loud.
We have (had actually) five weeks to burn before our next scheduled activity – kayaking Labyrinth Canyon between Green River and Moab, Utah. Of course I had other places to go visit during these weeks, but two things have changed those plans; 1) we have driven a lot this year, and we are tired of it – relaxing more sounds great, and 2) it is too hot to go into "lower" elevations (and by that I mean anything below 7000 feet).
We left Stanley, Idaho on the Saturday following the eclipse, Northward towards an unexplored area – to us – of Idaho; Salmon. It was in Salmon we were going to hang out for a week or two, but Kerri's not-so-great-navigation-skills failed to take into account that Salmon, Idaho is below 4000 foot elevation, and it was blazing hot the day we arrived. Worse was the forecast in the mid 90's for the rest of the week and even hotter on the following weekend.
On the plus side, we were camped very near the local Fairgrounds, and that night was a professional rodeo and the county fair. Even with the heat laying it on thick, we set out at 7PM to go to our first ever rodeo together (my first ever). The rodeo was enjoyable enough, but it was the Mormon scones that stole the show that night. Scone-nuggets to be exact. Light and fluffy (similar to a funnel cake) and dipped in honey butter. MMmmmm good!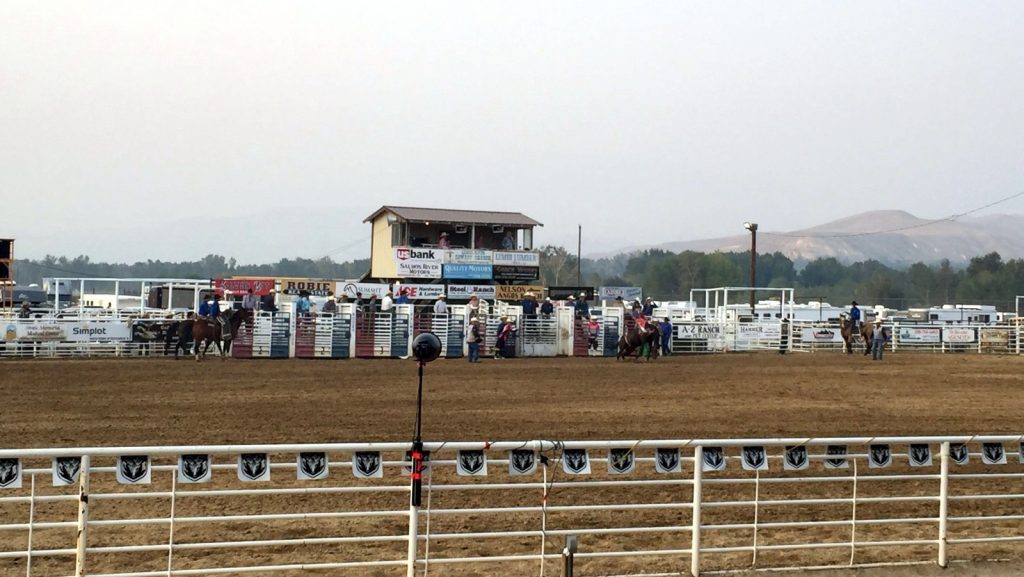 We still wanted to leave though, and here is the great thing about a nomadic lifestyle, we could do exactly that at any time. Our entire life, and home, is in tow right? So the only real issue was just finding another place cool enough to live for a few weeks. And that doesn't take long now-a-days either, thanks to great apps and other people's reviews. The following day we simply drove another few hours to reach Alta, WY where we were near 7000 feet and cuddled right under the West side of the Teton mountains. Not great for solar, but great for shade.
This was still too hot by the way, so we spent the following day roaming around dirt roads until we found our ideal spot where we could pull the trailer right up to a small river, off the beaten path, and tons of shade. We need to hunker down for two full weeks since Labor Day weekend is upon us and the crowds in any established place will be beyond our tolerance levels. Four miles out a dirt road that it seems is rarely used will do just fine (more on this place in the next blog post).
For those keeping track, we went form staying in a single location for three weeks to jumping to three different locations in two days. It's just how we roll sometimes.