The Idaho adventures continue
We made it past Labor Day – known to many as "Full Timers Liberation Day" as schools are back in and the final holiday weekend of the summer is past – without major incident. We had only one neighbor pull in to camp nearby and only for a single night's stay. Even then, he was still a few hundred yards away. Basically, we had our own slice of forest all to ourselves for two weeks.
After two weeks of the beautiful forest-camping our nomadic blood began to percolate, and we felt the need to move from our wonderfully peaceful and solitary spot to something, anything, further down the road. Saturday afternoon we left, driving only a few miles to get to Grand Teton Distillery on the outskirts of town. GTD is a member of the Harvest Host program, so they welcomed us for an overnight stay. We picked up some more booze (because… Kerri [ I take that back, she bought *me* some vodka]) and hit the local Korean place for a final meal in town. The following morning we were set to take off to a completely different area.
Kerri had a few places in mind near Lava Hot Springs, Idaho (neither of us have been in to this area of Idaho) so we pointed the GPS to where we wanted to hoped it would lead us there. Surprisingly, it did, and three hours later we were pulling into – and past – Lava Hot Springs. Our spot was still another 30 minutes past town, and seven miles up an un-scouted gravel road into the Caribou National Forest. We both have gotten quite good at reconnoitering a potential spot via Google satellite view, and Kerri had a place in mind.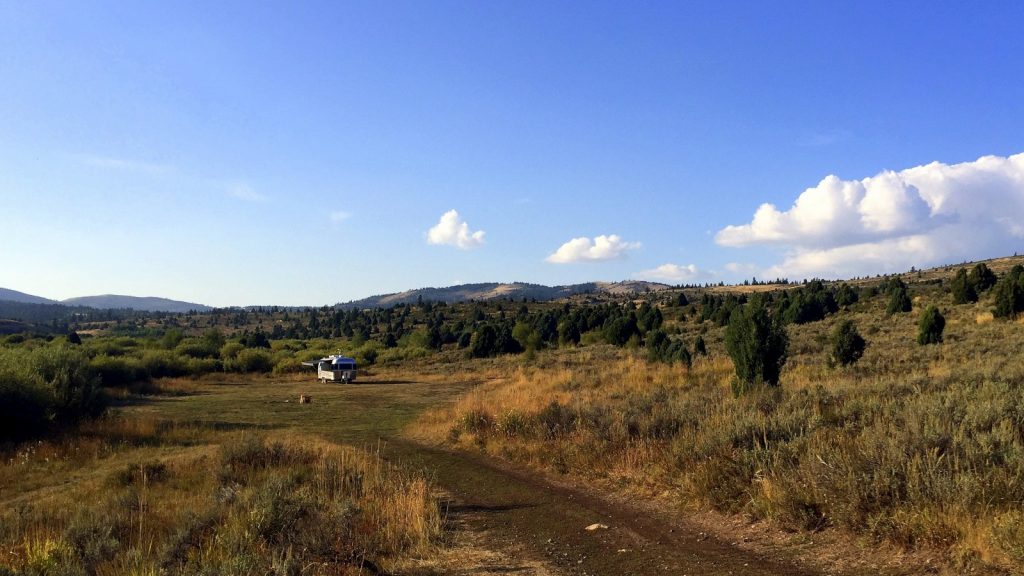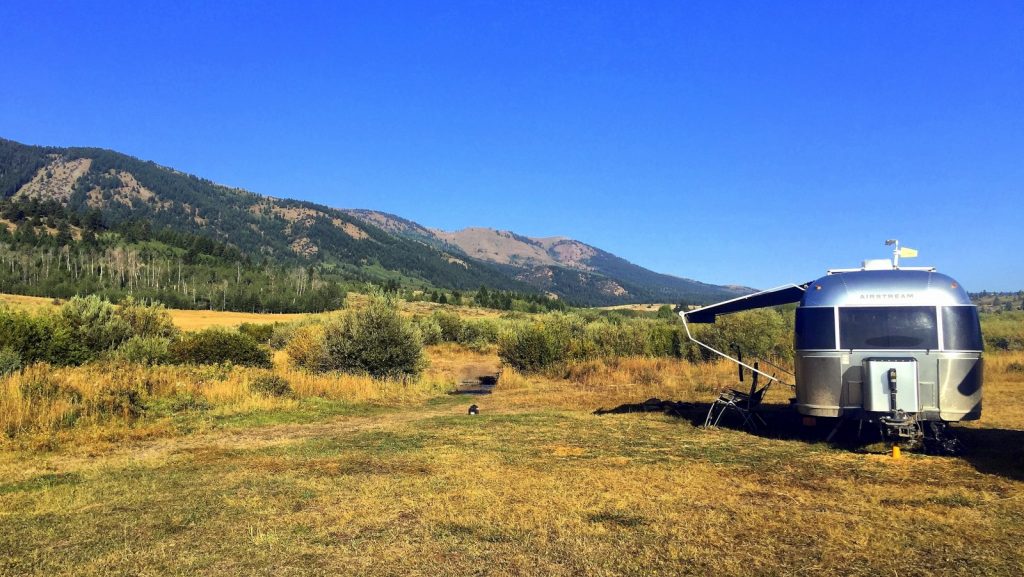 We did not make it, instead choosing a new-to-us place right on the Pebble Creek. A large, flat, and open meadow with our nearest neighbor well out of sight. Here, again, the dogs had tons of space to run (Moose) and water to play in (Byron). Kerri and I were both happy to go from heavily forested areas to open meadows. We just need *change* all the time, not just in location but in scenery as well. So, here we sit for the next week, or two,  as we wait for the temperatures in Utah to start mellowing out before heading South to our rendezvous with friends for our final big yak-packing trip of the year.