Returning to Moab
Once an annual destination for me, it has been more than three years since I have been in Moab, Utah. March of 2014 was my last visit here to mountain bike as best I could. I can still recall all the muscle pains of the time, trying to keep up with my 20-something biking buddy. At least he isn't here this time around… whew!
Kerri and I pulled into a location with familiar faces nearby. Three other couples (who we were hanging with in Stanley, Idaho) were already camped here and we setup camp just down the gravel road from them. Our view is 360 degrees, with Arches National Park on one side, and Canyonlands National Park on another. Not bad at all.
Within a few hours or arriving I got a text message from a guy (Ryan) who I recently met in July when they just began their RV life. As it turned out, they too just happened to be camped on this same gravel road just a few hundred more yards down. We were neighbors by chance… how cool is that?
The pups have been seriously enjoying the wide open spaces. Moose sits outside all day just scanning the landscape waiting for a rabbit to pop up, then the chase is on. He doesn't win, but he seriously loves the chase.
The weather has been very dramatic. When you can see for dozens of miles in all directions, you get some good views of the rain clouds and nearby storms. Some have passed right over us, dropping some nice rain and even a few specs of hail. These gravel roads do get pretty scary after a big rain passes through.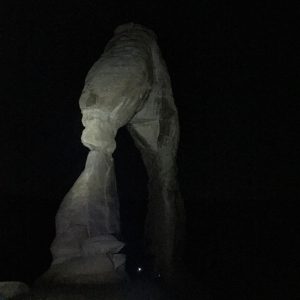 We have already gone into arches to hike the trail out to Delicate Arch (at night, again) as a group. My fourth or fifth time up there, but for everyone else it was their first. When we completed the 1.5 mile hike, I stepped out to make the final few hundred foot walk to the arch itself and use my flashlight to illuminate it for everyone else. That last few hundred feet is on a near-45-degree-angle slope that drops into a bottomless pit. Kerri chose to follow me out there. I know her issues with heights, so I tried to stop her. She continued to stroll all the way out insisting that there was nothing to worry about. Enjoying the view, we sat, and only then did she realize her mistake. It took 15 minutes to shuffle her way back, on her butt, those same few hundred feet. Once she noticed the bottomless pit, her whole outlook on that walk changed for the worse. Sometimes the darkness is a good thing.