Rapid City Redux
We had returned to Black Hills area of South Dakota with a single purpose in mind; moving Kerri out of California. Even when you do not set foot in that state, they make sure to tax you to the max. What Kerri paid in California taxes and vehicle registration over the past six years would have bought a nice used car, or trailer, or two years living in a van exploring the country. It's a lot of money to give a state when one doesn't actually live in it. Add to the mix of just how poorly the government operates the state with the money  provided by the tax payers, and it is another kick in the face. I am happy to report that it is all resolved now. Within just a few hours of coming back to South Dakota Kerri had all the vehicles registered in South Dakota and a valid residential address in the state. Minutes after the local DMV opened for business (after the 4th of July holiday) she had a finished driver's license in hand. It was all that simple, and I am super-happy to report she is no longer a Californian (whew!). Not only is she saving thousands each year in taxes, her auto insurance will drop significantly, and she has regained the right to vote (and carry a gun for that matter). It is a win-win all around.
For this to happen though, meant spending the week in an asphalt parking lot, feet away from Interstate traffic, in summer temperatures. The RV park was far from scenic of luxurious, but it was 50 feet from Kerri's new residential address where professionals were there to help her through the process of becoming a South Dakotan. With the 100's hitting the thermometer this past week, it was a good time to be connected to shore-power and running the air conditioner. Even that didn't really keep the heat away though as the tin can I live in works like an oven when the sun us beating down on it all day. The AC simply can't keep up the heat radiating through the skin and insulation, so many uncomfortable days took place.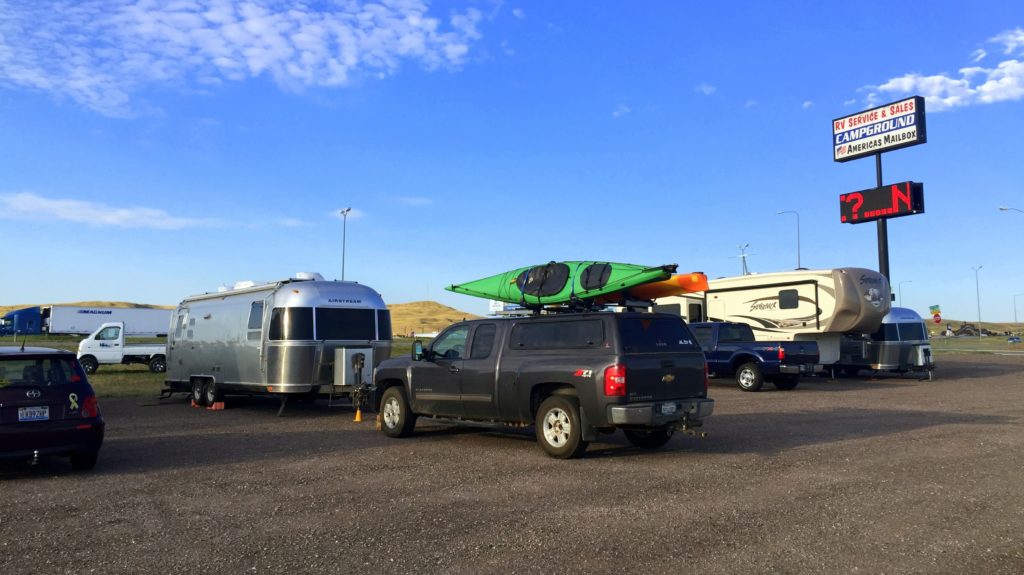 I spent most of the week running errands in the city. Laundry, truck fix-em-up-stuff, downloading large files at coffee shops, etc… You know, all the fun stuff of daily life in a high-heat environment. We did take one evening to get out to a local speak-easy for some  underground drinks and Blues.
And once again we have decided to leave a day early to get a jump start on the long haul to get into Colorado this weekend. A six hour drive (which will take eight with a trailer in tow) will be broken up into two manageable bites with an overnight stop in between. By Saturday evening, I will be able to see my Son for the first time since Thanksgiving. Then it is my turn to deal with a bunch of state-issued paperwork in my home state.