Penetrating Minnesota, aye!
We left Michigan, traveling West (yes!), on our way to the next big adventure of this year's planned trip; a multi-day kayaking trip in Voyagers National Park. But first, Duluth Minnesota. Unbeknownst to us both at the time, we would pass through a portion of the state of Wisconsin as it lay right between MI and MN. I felt bad that I hadn't notice it just sitting there. Like the homely girl at a high school dance, it just went completely overlooked though she is likely the best person in the room. In fact, I do not believe we even stopped the truck while in Wisconsin – so I do not consider it officially visited. Originally we were going to stop in at Apostle Islands National Park, but the fact that we could not kayak out to any island (Kerri's kayak is too small, and we both lack some safety gear) there was no reason to make the extra stop. So, we just kept on driving until we got to Minnesota… Duluth, MN to be exact.
Kerri has been here before so knew exactly where she wanted to spend the week. I was unsure of the place at first, but within 24 hours I was taking to it. It is a small town for how big it is, which means it is more my size. It has the stuff you need from a city – grocery, gym, laundry, etc – without it being a sprawling metro area with strip malls and wannabe gangstas all over the place.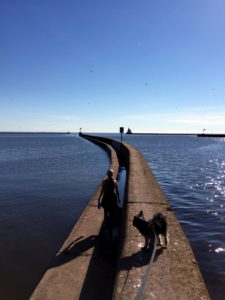 We stayed  out on the spit, at a marina, just over an old historic draw bridge from the touristy area in town, surrounded by both Superior Bay and Superior Lake. At the end of the spit is Park Point Rec Area with it's sandy beaches and a 2.5 mile trail that leads you to the very – very – tip of the land. In fact, from here one can practically reach out and touch (across the channel) that homely looking Wisconsin.
The lighthouses, the draw bridge, a distillery, maritime museum, and watching a conspiracy of ravens chase an owl through the trees on our 4.5 mile hike rounded out our week here. We had to leave Friday morning as the marina was booked up for the weekend thanks to the Air Show coming to Duluth for the weekend. The Blue Angels even gave us a few fly overs on Thursday to send us off.
PS – we got to go on board a 36 foot sailboat thanks to a nice man at the Marina. This really got us excited about our upcoming plans… {add suspenseful music here}