My travels during 2012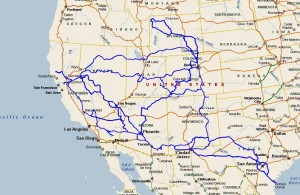 In Jan 2012 I took off to begin a new adventure. This one I planned to not plan. Instead of having a route laid out ahead of time, I looked forward to simply pointing the van only in the direction the wind blows and roll with it.
Since it was winter my first compass heading was to follow the birds, south. I spent 3-weeks visiting parks and places in New Mexico, Texas, and Arizona before eventually making my way into California to spend the month of February with family. By early March I was back in Colorado to take care of both car registrations.
At the end of March I was back on the road again (mini road trip) with Timmy and Imelda for a trip around Arches, Canyonlands, Mesa Verde, and the like. I then settled in for Timmy to finish off his school year.
By June I was headed back West to pickup my Mother who came back into Colorado with me. We hung around in the Rocky Mountains for a week before beginning a drive through Colorado and Arizona to Phoenix to visit my Sister before heading back into California where I hopped onto an airplane, for the first time in a long while, to return to Colorado.
Late summer I re-visited Yellowstone and Grand Teton Ntnl parks, this time with Timmy and Imelda.
In October I began a 5000 mile trek; first heading West to pickup my Mother in California where we went South-East to Phoenix to see my Nicole and Rod. Then my Mother and I are off to Texas for some exploration and camping on the beach before returning to California in December.
In total, I traveled just under 14,000 miles exploring the West and South-West during the year.
Where I have been (in order)
Capulin Volcano Ntnl Monument, NM
Carlsbad Caverns Ntnl Park, NM
Guadalupe Mountains Ntnl Park, TX
Oldest zoo in the west (Alamogordo, NM)
Lake Holloman (Holloman AFB, NM)
White Sands Ntnl Monument, NM
Cochise Stronghold, AZ
Salton Sea, CA
Slab City, CA
Rocky Mountain National Park, CO
Arches National Park, UT
Canyonlands National Park, UT
Mesa Verde National Park, CO
Peaceful Valley, CO
Rocky Mountain National Park, CO
Trail Ridge Road, RMNP, CO
Black Canyon of the Gunnision Ntnl Park, CO
Mesa Verde Ntnl Park, CO
Four Corners, UT/CO/NM/AZ
Grand Canyon Ntnl Park, AZ
Grand Teton and Yellowstone, WY
Hoover Dam, NV
Poncho Villa State Park, NM
Kerrville-Schreiner State Park, TX
River Walk, San Antonio, TX
2012 Formula 1 US Grand Prix, Austin TX
Padre Island Ntn'l Seashore, TX
Carlsbad Caverns Ntn'l Park, NM
Casa Grande Ntnl Monument, AZ
Calaveras Big Trees State Park, CA