Moochdocking in Sac
It isn't often, but sometimes we moochdock at a friend's or family-members house. In fact we have a lot of that in the next two months, but before that we stopped in to visit an old client and now friend of mine, Charlie Parker. Moose and I have dropped in at Charlie's once in the past, just before meeting Kerri in 2015. This time around Kerri got to hang out with Charlie as well. He is a good fella with a nice street for an overnight stop on our way to the coast.
We chatted it up over burgers and beers 'till a whopping 8PM before we were forced to turn in. The party continued the following morning with a breakfast at the local eatery, then we were heading off to the coast… but not before a minor mechanical breakdown.
The previous day, on the other side of the Sierra mountains, Kerri felt some harsh grinding in the brakes. I was hoping – praying, in fact – that it was something else, but it became clear that the left-front brake material had seen it's final day in Nevada. After breakfast we made a quick pit stop at the local auto parts store to pickup new brake pads and rotors to perform a quick brake replacement – a job that I was suppose to do three months prior. I knocked out both front brakes and rotors in under an hour on the first hard-ground we have had in months; in front of Charlie's house.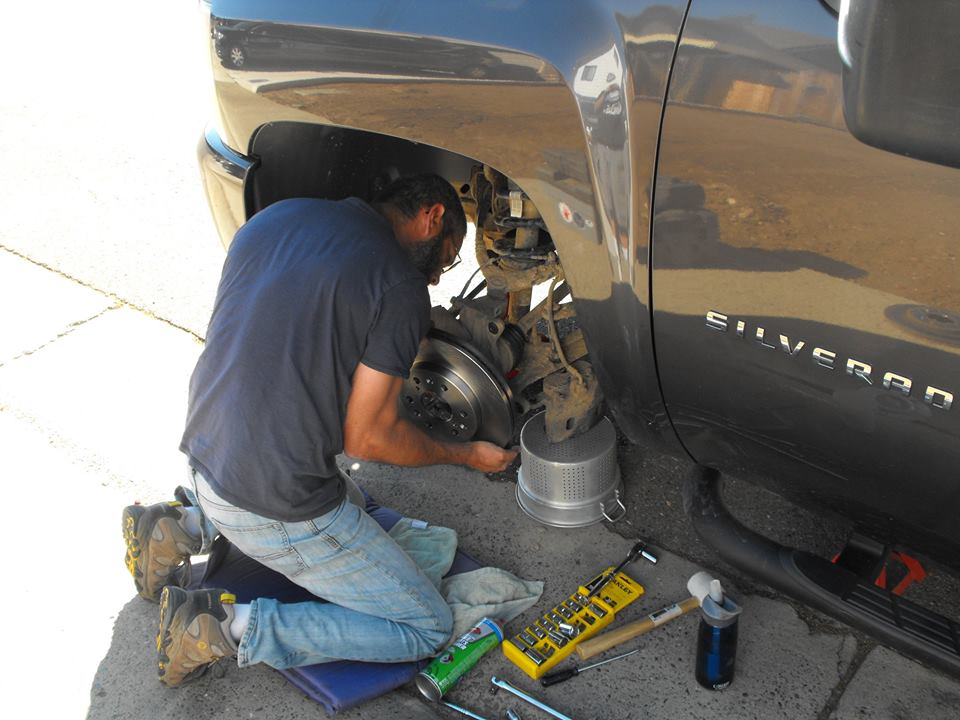 Kerri sat back and relaxed while I busted knuckles working on her truck. It sucks having a man around!