McKinney Campground
Immediately following my last blog post, two things happened; First, my back decided to play 90-year-old again and nearly freeze up. I caught it quickly and instead of fighting the initial feelings, I went with it and hopefully saved myself weeks worth of pain and suffering. We do have that big hike coming up in a few weeks, so I can't be hobbling around like an old man.  Second, my laptop decided it was done. Quite literally, it refused to boot up again. Considering that I have owned and used it (in a van and on the road the entire time) for roughly five years, I knew the time was coming for a replacement. I say this to hopefully excuse the length between blog posts.
Before either of those happenings, we moved into McKinney Campground, just to the North of the Atlanta area. Kerri chose the place thanks to reviews on Campendium. We lucked out to score the final remaining spot open for the week we were staying as Spring Break was starting that following weekend. A prime spot with a great waterfront view and easy launching of our kayaks… what else could be asked for?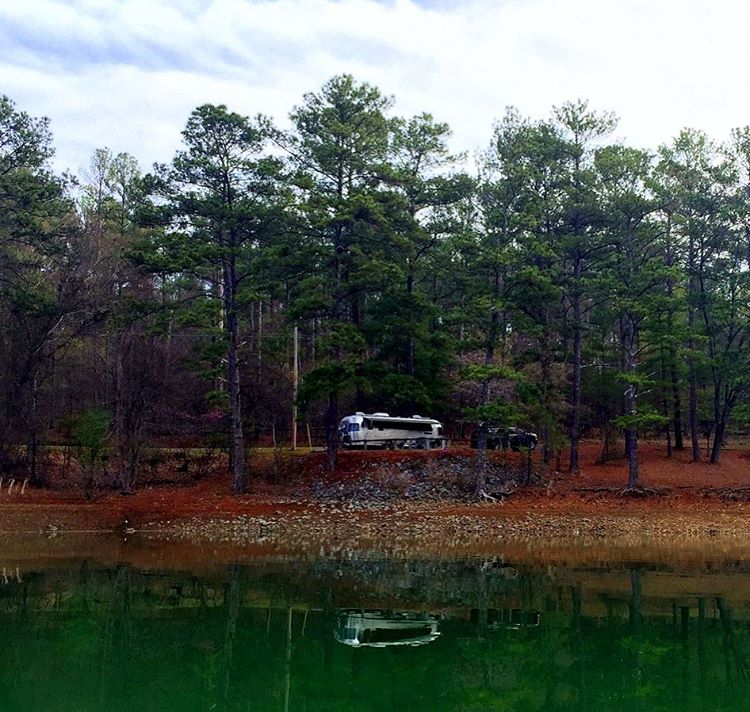 At the first opportunity we jumped in the kayaks and set out to explore the the lake in the early morning dew and light. While not the most exciting place to kayak, it not only felt good to get back on the water, but to get us both up and moving so early in the morning. I even spent a few minutes out on the water with Moose on board. He did much better than the last time he went kayaking, when he spend the entire time disturbing the peace.
After the work week (which included the back injury and laptop failure) we had a scheduled meetup with Todd & Russ. T&R were there when Kerri and I first met in Jan of 2015, but we have not seen each other since. They came up to camp a few nights with us. Moose was very happy to finally get to hang out with Francis (their dog) who he fell in love with back in Jan of 2015. He may have gotten a little over-excited actually… but she was sending all the right signals and Moose was only following her lead.