Fishing for baby whales
We happily left the tacos and city-life of Guerroro Negro on Friday afternoon, after a quick trip to the laundromat, fuel station, water station, bank, and grocery store. It was a late departure for sure, but we were only planning to move 40 minutes down the road to Laguna Ojo de Liebre on the banks of what should be a world-wonder, if you are asking my opinion. The lagoon is a annual destination for Gray Whales who migrate from the cold waters around Alaska to come here to birth and raise their babies, at least for a few months. For a few hundred pesos one can board a tiny boat and go see the whales (babies too) up close and personal, and that was exactly what we planned to do since we missed out on the adventure on our previous trip here.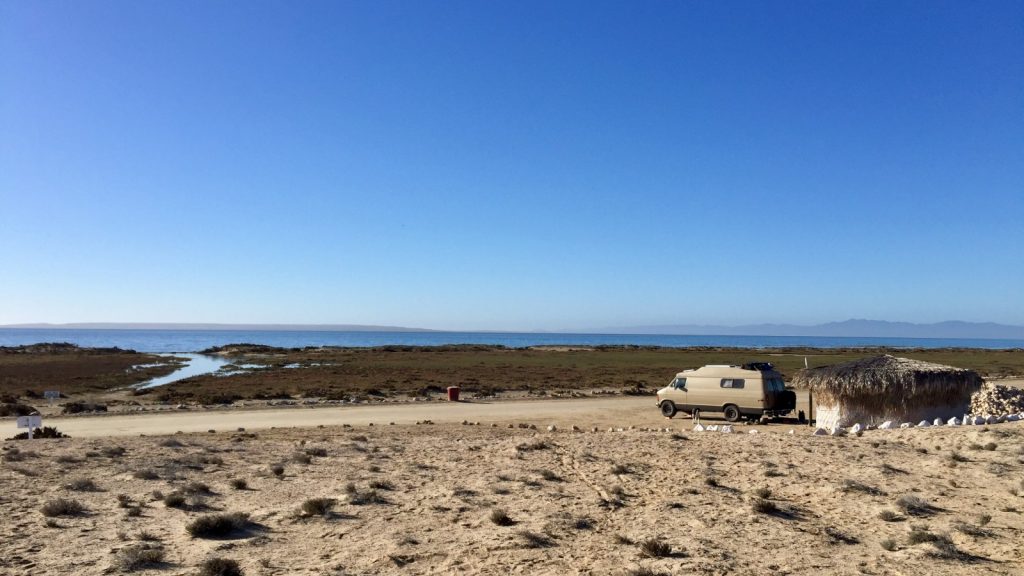 With the late arrival – just before sunset – we setup camp (aka, parked and opened our doors) at a lone palapa. The dogs were able to run around for a bit, which they both desperately needed after a week leashed to the van in a gravel parking lot. Happy dogs makes for a happy Van Tramp. Kerri and I settled in to watch the sunset and a quick meal at the restaurant on site where the TV was playing a most enthralling Mexican drama. I have no clue what it was or what it was  about, but not knowing what is being said sure makes it a ton more dramatic. We couldn't help but to watch, making up our own dialog as we did. Afterwards, back at our palapa, we sat out and enjoyed a few drinks before calling it a night.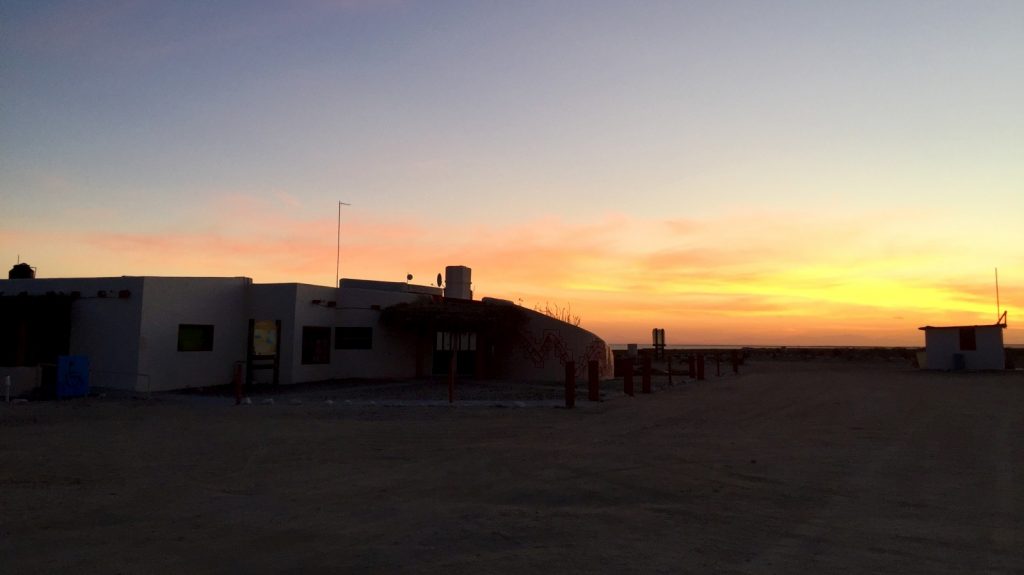 We returned to the restaurant in the morning for Huevos Rancheros (our first this time in Baja) and decided to jump in the next boat heading out on the lagoon. A 3 hour tour (ha! seriously!) of the lagoon proved to be one of the most amazing things one could ever witness. Not just in Baja, but on the planet. Whales, whales, and more whales everywhere you looked. Some just swimming along with their newborn while others seemed to be gleefully playing a game of who can jump the furthers out of the water. It was easy to get whiplash with all the head turning.
The boat captain motored us back and forth between numerous groups of the monsters so we could get our videos and photographs, but we knew the real attraction is the possibility of being able to reach down and touch one of the whales – baby whale preferred. For our group, it happened right towards the end of our tour. Eventually running across a mother whale so proud of her newborn baby that she just had to show it off… even if it where to tiny humans. When the momma spotted us nearby, she pushed her baby up on her snout, out of the water, and swam it right to our boat. There she spent the next few minutes socializing with us, ever so gently avoiding contact with the boat (not half her size) and lifting the baby up for us to see. There really are no words that give it justice, just do it if/when you have the chance.
I kept the camera rolling while Kerri tried repeatedly to actually make contact with either of the whales, but they stayed just out of reach of her T-rex arms (I'll pay for that last jab). It was all good though, we still got to play with whales this time in Baja, and it was worth every peso and all the miles of pothole infested roadway to get here.
How about a few videos…